Franklin Jones wisely said, "Honest criticism is hard to take, particularly from a relative, a friend, an acquaintance, or a stranger."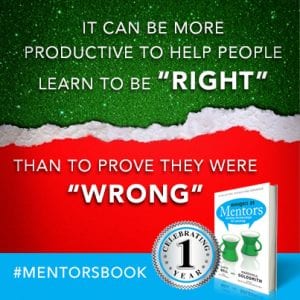 How do you give feedback intended to fuel growth? Start by recognizing that while giving advice can surface resistance, giving feedback can stir up resentment. Advice is about expanding the scope of knowledge; feedback is about filling a blind spot.
In the late sixties I served in Vietnam as an army infantry unit commander in the 82nd Airborne. Attached to this combat unit was an artillery officer who worked as the forward observer (FO) for the artillery unit in the rear that supported field operations. This FO essentially served as the eyes for the gunner pulling the lanyard on the artillery piece. As rounds were fired several miles out, the FO observed their impact and, using a field radio, called in corrections to improve the accuracy of the next shot.
The FO never said, "Lousy shot," or, "Well, that was better than last week." He would simply say, "Drop one hundred meters," or "West one-fifty," or "Pay dirt!" This was feedback, not advice; the FO had a perspective the gunner needed and did not have.
There is one key difference between artillery feedback and mentoring feedback: Artillery feedback is not likely to make the recipient angry. Advice is expertise the protégé may have or could acquire. Resistance to advice is therefore about premature smartness — that is, "You (the mentor) are telling me (the protégé) something you know that, in time, I can learn on my own." But with feedback, the issue is this: "You (the mentor) are telling me something you know that I will never learn on my own, and that irritates me." The danger with advice is potential resistance; with feedback, it is potential resentment.
How does a mentor bestow a gift that by its nature reminds the protégé of his inability to see it? Below are four steps that can make giving feedback more powerful and more productive. The steps are numbered because the order is vital to their effectiveness.
Step 1: Create a Climate of Identification
A key factor in giving feedback is the protégé's embarrassment over some blind spot. Granted, "embarrassment" might at times be too strong a label for the protégé's feelings, but at other times it is not strong enough. In any event, the mentor can enhance the protégé's receptivity by creating a climate of identification. Make comments that have an "I'm like you — that is, not perfect or flawless" message. This need not be a major production — just a sentence or two to establish rapport.
Step 2: State the Rationale for the Feedback
In addition to overcoming embarrassment about the blind spot, the protégé will need to understand the context of the feedback. Help the protégé gain a clear sense of why the feedback is being given. Ensure that there is a clear perspective for making sense of the feedback. When you give feedback, you never want to make the protégé wonder, "Why is she telling me this?" or "How in the world can I benefit from this?"
Step 3: Assume You're Giving Yourself the Feedback
Besides being clear and empathetic, feedback must be straightforward and honest. This does not mean it must be blunt or cruel; it means that the protégé should not be left wondering, "What did she not tell me that I needed to hear?" Trust is born of clean communication. Think of your goal this way: How would you deliver the feedback if you were giving it to yourself? Take your cues from your own preferences; give feedback, as you would receive it.
Step 4: Ask for What You Gave — Feedback
There is one action you can take that will both help you improve your mentoring and level the playing field in the protégé's mind: Ask for feedback from the protégé. Let the protégé know that you want the feedback process to work both ways. From time to time the forward observer attached to Chip's army infantry unit would ask the gunner for feedback on his FO technique. The gunner was given a shot at calling in a few corrections of his own, so to speak. It gave the infantry unit confidence to know that the dialogue was a two-way street.
Photo Credit: Flickr via Teresa Gibbison