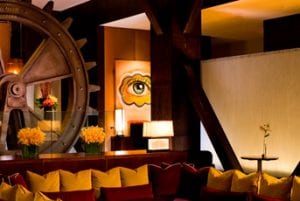 Joule is a measure of energy. The Joule is a place of happy energy. The luxurious ultra-modern boutique hotel in downtown Dallas has made happy energy (the Chinese call it "chi") its main attraction physically, emotionally and spiritually. There are many reasons the hotel has earned its five-star distinction!
Arrive at the front door of The Joule and an upbeat doorman escorts you to the front desk where he introduces you to the clerk rather than announcing you. It is the kind of hosting in which a handshake is in order. The lobby has a super long narrow banquet table with lots of chairs along each side and stacks of interesting books as the entree. A giant wheel constantly turns in the lobby like a gristmill turning corn into meal. The 10th floor pool provocatively extends eight feet beyond the hotel's structure giving swimmers the sensation of swimming right off the edge of the building.
Guest rooms are appointed with a bathroom sink that reminds you of a small waterfall from a purple hillside. All room lighting is mood-enabled. The colors richly embrace you as you enter the bedroom. The office section of guest rooms feels like a real office complete with accessible outlets, Aeron® office chair, and adjustable desk. Most hotels just add a desk and chair almost as if an afterthought. The hotel restaurant off the lobby—CBD Provisions—echoes the same happy, carefree energy from its sound, smell and ambiance to its menu items—pan roasted quail, little goat pie, pig-tails and grapefruit pie.
But, beyond this classy setting, unique design and inviting tone is the hotel's centerpiece—employees who all seem to have been carefully chosen for their confident, upbeat personalities. "Do you have a business center with a printer?" the front desk clerk was asked. "No sir, but I would just love to print out whatever you need?" That attitude of "yes" permeates every person in the property.
After a wonderful stay, I checked out of the hotel with a big smile that I passed on to the doorman, and to the taxi driver, and to the airport TSA agent, and to the airline gate attendant, and to the…! Joule is a word pronounced the same as jewel. And, like a precious stone, this hotel expresses an elegant, enriching experience to everyone who crosses its threshold.